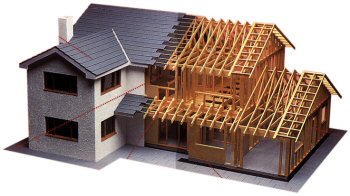 It's a fact. A timber frame home costs less to heat. Cosy, warm and draught free, the low running costs are matched by structural quality that is not just reliable but is environmentally friendly.
Compared to traditional masonry methods of construction, timber frame homes:
Are engineered to the highest level of accuracy and quality
Significantly simplify on-site construction
Promote greater efficiency and supply chain integration
Deliver greater control to the construction process
Meet and often exceed current building regulations
Timber frame construction meets and exceeds all current building regulations with regard to fire
Improve construction health and safety
Have considerably less impact on the environment
Nowadays all new buildings have to conform to new thermal efficiency standards. But, because wood is such a good natural insulator, enhancing the efficiency of the insulation materials, timber frame buildings have been meeting or exceeding these standards for years. And they are more comfortable to live in; thanks to the excellent insulation of the structural shell, the whole home heats up more quickly, without any cold areas. Better insulation, hand-in-hand with detailed draught- proofing, means a smaller boiler, lower heating bills and a cosier, more comfortable home.
Better built?

Precious little has changed in the way masonry houses have been built over the years. They rely on the skills of a dwindling number of craftsmen working on messy sites in all weathers. Timber frame homes, on the other hand, are precision-engineered under factory conditions, doing away with many of the building processes traditionally done on-site. Room dimensions are more accurate too – useful when you're fitting a kitchen or a carpet! A 'dry' plasterboard lining system is used, rather than wet plaster, allowing decoration to be carried out immediately the house is finished and eliminating the need to make good where shrinkage of the plaster has occurred.